Accent Art Glass Presents: About the Artist

THE GLASS FORGE
ARTISTS MAURICE KREUZER, LEE WASSINK & NATHAN SHEAFOR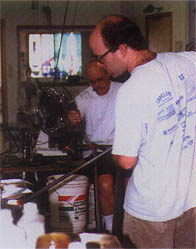 Maurice Kreuzer: I began glassblowing in 1974 as an apprentice lampshop glassblower in Denver, CO. In 1977, I started Glass Impressions, Inc. with three other people. Over the next three years we worked together and sold retail products in several locations in Colorado. During this period I was able to develop more than one hundred production pieces for sale. As Christmas and Mothers Day shows were not enough to support me, I went to South Dakota to develop sales in the tourism industry. I depended on lampshop glassblowing as a living until 1992. I was introduced to offhand glassblowing through lampshop glass. At that point, I developed and built my own glass studio in Keystone, South Dakota, including a glory hole, furnace, annealer, and a basic combustion system. I moved to Olympia, Washington to pursue a living in offhand glassblowing in 1993 and worked for Hank Claykamp at the Mount St. Helen's Glassworks in Centralia until 1995. I left Washington for California in 1995 and worked as a glassblowing assistant at Smyers Glass Studio in Benecia prior to joining The Glass Forge.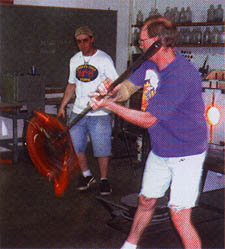 Lee Wassink: I originally took a glass blowing class during my sophomore year in college at Central College in Pella, Iowa, not thinking anything of it. Of course, after that, the romance of glass occupied my mind. I took two more years of it from John Vruwink, while finishing my college education and was able to get fully hooked. After graduation, I moved to southen Oregon and spent a year helping my Dad build his "dream house". In the process, I realized that I would return to Grants Pass. During this time, while making trips to the Bay Area, I courted the Nourot Glass Studio, finally getting them to hire me just as we were finishing the house. Working for Nourot Glass Studio and the three owners, Mike and Ann Nourot and David Lindsay, was the biggest glass learning curve yet for me. While working with them for four years, I found out that it was truly the art that I wanted to continue for the rest of my life. When it came time to leave the Bay Area and move back to Grants Pass, I got the opportunity to take a two-week intensive course from Bill Gudenrath at the Corning Studio. By the time I came back after contacting Nathan and Butch, I was able to look for a building to start our studio and the rest, as they say, is history.
Nathan Sheafor: My first contact with the medium of glass was in a vision of sorts while participating in a pottery workshop in the desert near Moab, UT. The instructor wanted the class to visualize a container to hold water from a beautiful stream. I saw the shape in clear crystal, not clay. Shortly thereafter, a pottery and glass professor at the University of Kansas, Vernon Brejcha, thought that I would be better suited to working with glass than clay and directed me to the world of the molten material. I have been attached to it ever since being driven by the desire to make the perfect goblet, graceful lines, rich colors, and a certain physical intensity that reflect my nature.