Accent Art Glass Presents: About the Artist

OPAL ART GLASS
JOHNNY CAMP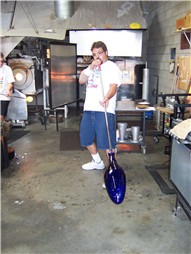 In 1990 Johnny Camp was introduced to glass for the first time. While attending college in Centralia Washington, he began working part-time as an assistant for The Original Mt. St. Helens Volcanic Ash Glassworks in Washington. Soon he became a gaffer on a two man team. The summer of 1993 he attended Philchuck open house. In 1995 Johnny married Darlene Bushell and moved to California to work for Smyers Glass Studio in Benicia, producing table and barware. Later that year he assisted Joe Morel at Zellique Art Glass in Benicia until 1999. He also assisted Joe Morel while doing demonstrations at Chico State University with William Morris. In 1999, Union Street Glass needed a Gaffer/Assistant. Johnny worked alongside Guy Corrie and Ferdiand Theirot making large vessels. Johnny also participated in a Venitian Goblet Class at Public Glass in San Francisco, taught by Pamina Traylor and Katrina Hude. In 2000 Johnny began working for Nourot Glass Studio in Benicia as assistant to Michael Nourot. He quickly became the lead gaffer and manager until 2002.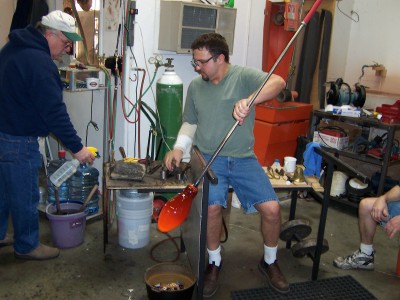 Johnny and wife Darlene opened Opal Art Glass in 2001. The Camp's dedication to glassblowing is evident in the excellent quality of their work. They work together as a team creating a wide variety of hand blown glass ranging from traditional forms to contemporary styles. Their combined 18 years of expertise as hands-on artists, designers, and fabricators have enabled them to achieve intimate works of art as well as large scale commissions. Glass poses as a seductive medium that continues to excite and inspire them every day. Each piece is a free hand expression of the excitement and danger only found in a glassblowing studio. For Johnny and Darlene, working directly with the glass is not only the time of inspiration, but a time when they can focus on only one thing - the glass - and leave the rest of the world behind.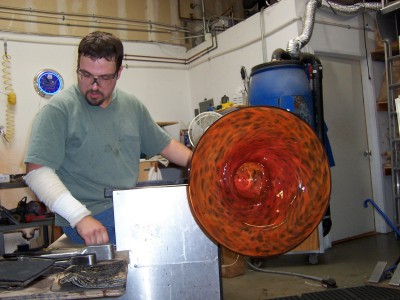 Opal Art Glass creates exquisite crystal by mixing sand, soda ash, lime and other trace ingredients. Glass is then kept molten in the furnace at 2100ºF. Preheated tips of stainless steel rods and pipes are used to gather the molten glass. Hand tools are used to manipulate and cut the glass. Different designs are created by adding colored glass, gold, silver, and other elements. After the glass has reached its finished form, it must be placed in a 930ºF annealing oven. Once the day of producing is over, the oven is cooled at a rate of one degree per minute. The pieces are removed from the annealing oven, then ground and polished. Each piece is finally inspected, signed and dated.